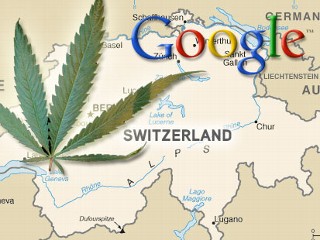 In Zurich, Switzerland, police used Google Earth to uncover a marijuana plantation that was growing inside of a corn field.
Over 1.2 tons of marijuana were seized, along with $780,000 in drug money.
The specialist of Zurich's narcotics unit, Norbert Klossner, said that 16 people have been arrested in connection with the plantation.
Two farmers in the area allowed the suspects to grow 2 acres of marijuana in their fields. They estimate that approximately seven tons of marijuana were sold between 2004 and 2008, valued at $9 million U.S. dollars.
"It was an interesting chance discovery," said Klossner.
The Google Earth application and software has its drawbacks and is constantly being criticized for being an invasion of privacy, and a threat to national security. It can provide details about military installations that could be maliciously used by terrorists.
I'm not sure if Geraldo Rivera's name was also on that security list.
Some foreign governments have already developed technology that blocks Google Earth from spying on military installations and marijuana plantations.
It has been reported that The Body Shop Hollywood in California gets more hits than Yankee Stadium, which was considering implementing a per-minute usage charge. Stadium owners were worried that sales of its Premium Offerings would be off because of Google application misuse.
Entrepreneurs are in the process of compiling latitude and longitude charts that list all the locations of open air theatres and nudist camps world-wide. The publication will be a bit pricey, but could be a Price Point offering, with William Shatner spear-heading the advertising campaign.